States must take the lead in decongesting prisons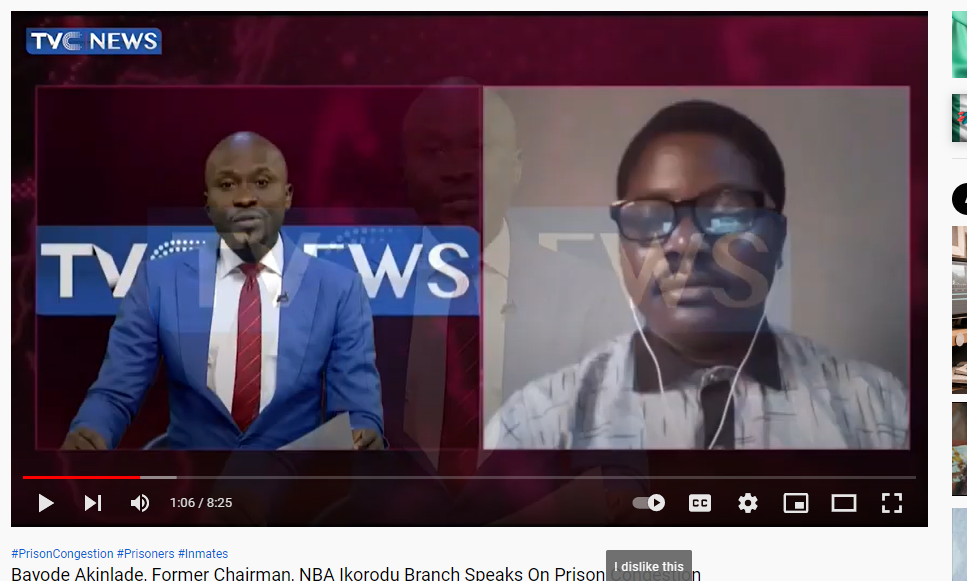 The issue of prison decongestion in Nigeria is within the jurisdiction of the states and must be addressed with the urgency it deserves.
Jurist Bayo Akinlade, former President of the Nigerian Bar Association, Ikorodu Branch, revealed this during a speech on TVC News.
Mr. Akinlade, who is also the organizer of the Duty's Solicitors Network, said the majority of inmates in jails or detention centers across the country are those who have committed offenses against states.
He added that unless a decision is made to have state prisons or detention centers different from the federal one, everything is the prerogative of the states.
He also called for more attention to be given to crimes committed by inmates wondering how a detainee can be in custody for 7 years for an offense that carries a 3-year prison sentence.
He alluded to the case of the filmmaker, Seun Egbegbe, who has been in detention for longer than the prison sentence given to him for his crimes.
He said this is another example of states failing to do due diligence on matters like this.
He however commended the Lagos State Government for its various initiatives on access to justice for citizens.
He asked that more be done on this issue.
He also said state committees on the prerogative of mercy must meet more regularly to release prisoners, as opposed to the current system of once every 6 months or a year.
He said the Home Secretary's decision on the issue of prison decongestion, while laudable, will make no major difference in asking what will happen after the 30% decongestion.
Read more below….
"How to decongest prisons and detention centers is up to the state government. It doesn't really make sense because if you're talking about congestion because most of the inmates are there because of crimes committed in the state and it really doesn't make any sense except you want to have state prisons and distinguish between federal prisons and state prisons".
"So you have to consider who the agencies are making this arrest before you go to court, which of course are also state courts. It's a federal police agency. And we don't have a state police."
"So what the minister was actually saying, I wouldn't understand how the distinction between crimes committed by people under state and federal jurisdiction has anything to do with decongestion."
"But the advantage is also to say that there are a number of detainees who have no reason to remain in detention. In particular, one detainee has been tried, a judgment order has been issued recently for someone one, I think for about seven years and found that he had already stayed beyond that in prisons".
"There is what they call the prerogative of mercy. There may be things they can do to make sure people who have stayed well past the crimes they committed and let go. Well, this exercise takes place in every state. You have the State Committee on the Prerogative of Mercy chaired by the Chief Justice looking at this."
"You also have the respective Ministry of Justice looking into this as well. And above all, you still have the great judges of the state who ceremoniously enter the Nigerian prison to release the detainees".
"These are usually annual events or once every six months. What we have recorded is that the Nigerian police, army and other law enforcement agencies are arresting people every day. Every day people are taken to court and every day they are taken into custody. So if you have a program that only happens once a year or once every six months, I don't think that's enough".
"Any of these programs can tackle whatever the minister wants to tackle. And above all, even if we do this exercise and reduce by 30% what happens the next day, unless we have serious mechanisms in place to limit the abuse of police power during arrests".
"Except you have other initiatives also in place. Some of them are already in Lagos. For example, the DPP screening system where people cannot just be brought to justice by a magistrate without going through the DPP screening system to ensure crimes allegedly committed are valid crimes and have sufficient evidence to prosecute".
"So we have a long way to go. Indeed, it would appear that there is something fundamentally wrong with our criminal justice system if some 70% of our inmates are awaiting trial, many of whom are first-time or juvenile offenders".
"Usually what we do is punitive rather than corrective. There are community service that many offenders may be subject to. How involved do you see the state government in this process? Well, I can speak on behalf of the Lagos State Government".
"There are quite a few innovations here in Lagos, for example, you have the reserve cost system where the alleged perpetrator cannot seek mediation. There are also non-profit convictions also in place in labor where small misdemeanors once pleaded guilty, you can do community service and these initiatives in Lagos".
"And of course the floating system of the DPP which tries not to even allow certain cases of alleged offenses to enter the criminal justice system until the court. So we actually need some sort of rough intervention that also includes the technology that is also done in Lagos where they have a crime directory."
"So unless you have this in place where the data on people has been collected at the police station level and at the court level, we're supposed to have a situation where prisons and correctional centers have to be cluttered and just let me go further".
"It's not that they're congested per se. Congestion can be dealt with by having additional corrections. What we have even in Lagos is what was built maybe in the 70s. What we need is more correction from us. For example, in Lagos. Lagos has perhaps no more than 15,000 detainees whether they have been fully prosecuted or are on trial."