On Veterans Day, the law school honors those who served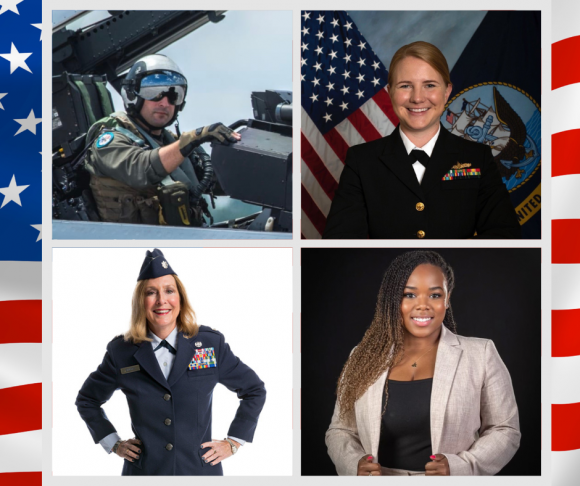 Rutgers Law School honors students who are veterans, including two Newark campus scholars, Dashay Carter, a Newarker native and former Army reservist, and Zach Fini, a Navy veteran who served 10 years on active duty, including deployment to the Mid East.
Carter, a freshman, spent seven years as an Army Reserve air operations specialist, serving as an aircraft-to-base communications liaison and later as a human resources specialist.
"I learned mental toughness in the military — everything is a mental game, even carrying an 80-pound pack on a hike in the rain," she says. "Once you understand that you can do something, you can do it. . "
Carter, who earned a master's degree in public administration at RU-N, has a long career in Newark that began in 2012 when she worked as the South Ward coordinator for Ras Baraka's mayoral campaign. Today, she is the head of human resources at the Newark Housing Authority.
Once she begins her law career, she wants to continue giving back to the city. "I want to be an example for children growing up like me," she says. "It's important for the kids of Newark to see successful lawyers who look like them, come from an urban area like Newark, and may not have grown up in the best family environment. That tells them, if I may do, you can do it.
Fini, who grew up in Skillman, New Jersey, had childhood dreams of flying an airplane. After graduating from Northern Michigan University, he was commissioned into the Navy and soon flew in the backseat of an EA-18G Growler aircraft, managing weapons systems and working to disrupt or suppress enemy radars and communications. "Basically what I tell people is that I was Goose in Top Gun," he jokes.
He applied to Rutgers-Law towards the end of his active duty career, where he served on the USS Dwight Eisenhower in 2016. He considers corporate and sports law, but keeps an open mind and tries to learn as much as he can without the fear of failure that can prevent students from succeeding. "Going from college to flight school, I was terrified of failing," he says. "I've learned over the years that the only way to get better at something is to fail over and over again, otherwise you don't learn anything. It really changed my mindset and made me realize that it really isn't the end of the world if something goes your way.
To learn more about their stories, visit here.