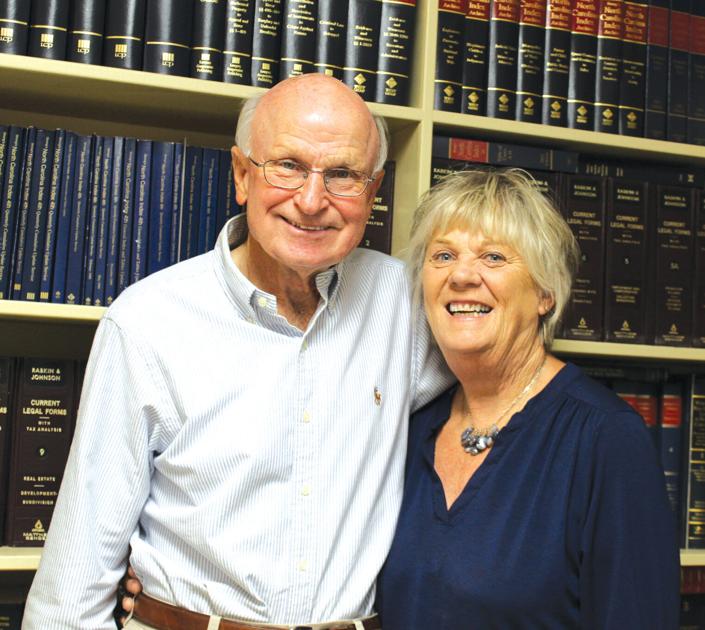 Longtime Warrenton Lawyer Announces Intention to Retire | New
Warrenton's attorney, Marvin P. Rooker, better known as Marty, has announced plans to retire, but not yet. He will complete legal services for current clients before setting an official retirement date.
Rooker grew up on the family farm near the community of Oine that he and his wife, Lynne, call home, and where Marty maintains a large registered Black Angus herd.
A graduate of Norlina High School, he earned a degree in political science from East Carolina University in Greenville. Marty recalled that he worked hard in college to fulfill his dream of going to law school.
He credits his uncle William, his father's brother, with the inspiration for him to go to law school. William practiced for over 50 years in Monroe, outside of Charlotte.
Marty graduated from the Cumberland School of Law in Lebanon, Tennessee. Founded in 1847, the law school then moved to the Samford University campus in Homewood, Alabama, a suburb of Birmingham.
After graduating from law school, Marty returned home to Warren County, where he was sworn in as a lawyer in August 1977.
He began his practice in the basement of the old Hunter building between BB&T and Warrenton Town Hall. Ironically, longtime local doctor Doctor Hunter gave birth to Marty in the same building.
"My dad said, 'At least you're not outgrowing your breeding,'" Marty said.
The following year, he moved to the ground floor of the building.
As he settled into his practice, Marty discovered that many routine tasks can only be learned by repeating them over time. He said local lawyers with established practices, particularly Charlie Johnson and Jules Banzet, served as mentors, showing him how to carry out daily activities such as filing documents at the Warren County courthouse.
Marty continued his private practice in the Hunter Building until 1981, when his current office building on Bragg Street was completed. This building has now housed Marty's law firm for 40 years.
"I will miss the office very much," he said.
Marty's practice has evolved over the years. After finishing his law studies, he accepted all the cases that presented themselves to him, both criminal and civil. Over time, he moved away from what he described as "complicated court cases" to focus on an office practice dealing with real estate, wills, estates and contracts.
Just as his uncle inspired him to attend law school, Marty may have inspired other family members to follow in his footsteps, including his first cousin and several of his wife Lynne's family.
"I like to think I inspired them, but maybe they thought if Marty could do it, I could," he said.
For Marty, now is the time to start ending his longtime practice to make time for other things, but he doesn't intend to stop abruptly. He will complete all the legal issues he is currently working on and take a few more cases that can be resolved over a short period of time.
Marty will have a lot to do after he retires. He will continue to raise cattle, but he plans to halve his herd of 120 Black Angus.
He also plans to travel. As his daughters Allison, Rebecca, and Erin were growing up, he visited many states and also found travel opportunities with the North Carolina Angus Association and the American Angus Association. After his retirement, he and Lynne hope to visit the states and national parks they have missed.
Marty and Lynne also plan to spend more time with their daughters and families, especially grandchildren.
There's still a lot of preparation to be completed as Marty shuts down his law firm, including his plans to eventually sell what has become the Rooker Building. As he looks to the future, he expresses his gratitude to clients in Warren County and surrounding areas who have sought his advice.
"I thank all of my friends and clients for their patronage over the years," Marty said. "People have been good to me, and I hope I've been good to them."