Huettner: Quick Tips for Starting and Growing a Law Firm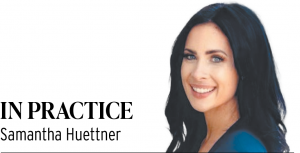 Owning a business can be very rewarding. Law firm owners can define the scope of their practice, choose a target market, set their own hours, and enjoy the creativity involved in implementing a business vision. With advances in technology and the shift to web-based work and communication in recent years, setting up a law firm has become increasingly accessible to lawyers looking for the unique benefits of owning a business. small business. For lawyers considering going into solo practice or in a small firm, here are some tips for starting your own law firm.
1. Start with a good base. It can be tempting to "drag your shingle" right out of law school and give up working for a law firm or training with another lawyer. There are lawyers who have done it successfully. But most lawyers don't have a business degree. Starting a law firm means becoming a business owner, and practicing law and running a business are different skills. It helps to have experience practicing law before starting a law practice. Before starting my firm, I articled with a judge and worked for two excellent civil litigation firms, where I learned to practice law and developed relationships and friendships that remain an important part of my practice to date. It gave me a good grounding in law and allowed me to focus on learning how to run a small business as I prepared to open my doors. Consider working for a law firm or training with an experienced lawyer and developing a network of strong mentors and friends in the legal community before going freelance.
2. Branding and strategic marketing are key. According to the American Bar Association, there were 15,802 licensed attorneys in the state of Indiana in 2021. Many are independent practitioners and small firms. This means that your law firm must stand out in a saturated market if you want your business to be profitable. You increase your visibility through effective branding and marketing. For creatives, branding can be one of the most enjoyable parts of starting a business, as you can develop your company logo, choose your brand colors, and design your website. And effective law firm marketing requires a strong online presence with a website that looks clean, authoritative, and modern. Even clients who come to you by word of mouth will search for you online before an initial consultation. During an initial consultation, several clients told me that they had a "good impression" of my company after consulting my website. At a minimum, your website should include your business name and logo, your photograph, a description of your services, and your office address. There are countless ways to market provided you scrupulously respect the rules of ethics. Your marketing should be strategic and tailored to your target market and your ideal customer. You can research effective ways to appeal to your target demographic or hire a marketing company to help you.
3. Plan diligently before you open your doors. An ounce of preparation is truly worth a pound of cure. There are several things you can do to increase your chances of success and profitability before you open your business to the public. Here's what worked for me: I read several good books on law practice management, I had coffee with lawyers I respected with successful solo and small-firm practices, and I wrote a complete plan by subject with the elements I would need for my practice, cross-references applicable ethical rules. I tried different case management and billing software as well as legal research programs until I found the one that best suited my practice. I chose a good bank familiar with IOLTA trust accounts and set up my corporate bank accounts. I interviewed accountants and hired one. I made sure my website was functional and attractive. I created an e-filing account and learned how to file documents electronically and became proficient in using Zoom and Google Meet video conferencing platforms. I decided to take out loans, hire staff and rent commercial offices. I made sure, as much as possible, that when I took on my first client, I had good systems in place.
4. Study the rules of ethics. It is extremely important that you read the Indiana Rules of Professional Conduct (https://www.in.gov/courts/rules/prof_conduct/), which cover a wide range of matters relating to the practice of law, including including marketing, fee structures, trust accounts, personnel management and record keeping. Identify mentors and colleagues with high ethical standards with whom you can discuss ethical questions and issues as they arise – and they will return from time to time. It is better not to solve an ethical problem alone.
5. Automate and standardize your practices. Having standardized and automated practices helps tremendously with time management and ensures that your files are kept in good shape. There are many ways to do this. It is worth investing in good case management software or secure cloud-based document management systems (like Google Drive). You should also consider developing two sets of basic forms and templates for use in your practice: those applicable to practice management, such as fee contracts, client intake documents, termination letters , client rejection letters, 10-day letters before withdrawing a case and vendor contracts, and those applicable to the practice of law. Depending on your area of ​​practice, this last category could include discovery sets, pleadings, dispositive motions, and others. This gives you a good starting point for discovering and practicing the movements and ultimately saves you time. In terms of automation, many businesses set up their websites to allow customers to pay an invoice or deposit directly through the website. There are also great ways to automate your customer onboarding, communication, and documentation processes. Finding and implementing these elements minimizes non-billable hours, maximizes profitability, and frees you up to enjoy other equally important areas of your life, like time with family and friends. Critically evaluate your systems to make sure they work for you and to identify areas where improvement is needed.
Starting your own law firm is an exciting business. Growth of this business is entirely achievable in the age of technology and web communication with a combination of preparation, a good base of support and a strong vision.•
Samantha Huettner is an attorney and owner of Indianapolis-based Huettner Law. The opinions expressed are those of the author.